work in progress
monday, 14/july/2008

first day of performance/installation went well. kimberlee is doing the camera. she's easy to work with, and i feel comfortable with her. the writing process was physically much more demanding, and a lot slower as it needed to be choreographed with the camera. crude set-up, guerilla-style shooting, really. much more fitting for the project than high production.

i met azizeh today. the connection was immediate. she is a remarkably courageous woman who has uniquely preserved the essence of the idealism of that period. we were all enriched by her presence and input. very encouraging.

my friend babak also responded to my invitation to participate:



Babak Salari:
"I would like to write you names of two family members who are very dear to me and my family:
Hadi Salari (my younger brother) who was executed in Ardabil by Islamic regime on 25-09-60 [1981]
Shahbaz Salari (my cousin) who was executed in Kazeroon by Islamic regime on: 04-05-60 [1981]
dedication: I remember you!"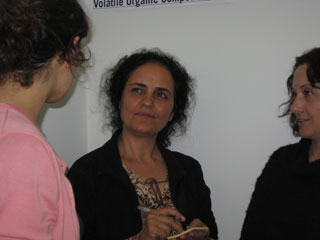 azizeh came to meet with us at the gallery on monday and got engaged in the collective effort to come up with the closest translation in farsi of leila's english text which is itself a translation from german. layers of distance and proximity.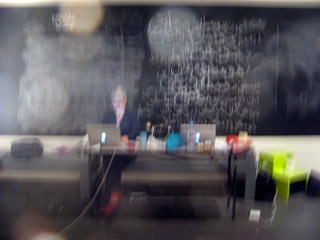 photo taken by Leila Pazooki
can't get away from the laptop even when the writing is on the wall and in chalk! first images of the work:


Last modified 27/JUL/2008 by Gita